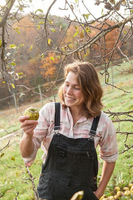 Meet Eliza
Eliza Greenman is a fruit explorer, horticultural historian, and designer /implementer of agroforestry plans that integrate livestock (and humans) into tree crop systems/orchards. 

Outside of her farming endeavors on leased land, She is currently looking to purchase a location (in Virginia) to plant a tree crops repository for the Southeastern US. The ultimate goal is to assemble as many genetics as possible to create a nearly endless fruit, nut and leaf drop scheme that will substantially or completely offset the cost of grain needed to raise livestock in the Southeast. 

Please support these efforts through the purchase of amazing charcuterie and other goods.